Case Study —
UAF Legacy Health
Industry: healthcare
My role: UX Designer, Lead Visual Designer
My Deliverables: User Personas, Design System, High-fidelity designs
Background: UAF Legacy Health first began as Utah AIDS Foundation (UAF) in 1985 when the Utah Department of Health reported a total of 17 persons living with AIDS in Utah.
In 2023, the organization rebranded as UAF Legacy Health in accordance with their new goal to provide whole-person, primary healthcare for LGBTQ+ individuals. And they are taking a big step to do so by opening the first LGBTQ+ healthcare clinic in Utah. Thus, we entered into agreement to help revamp their website to reflect this change.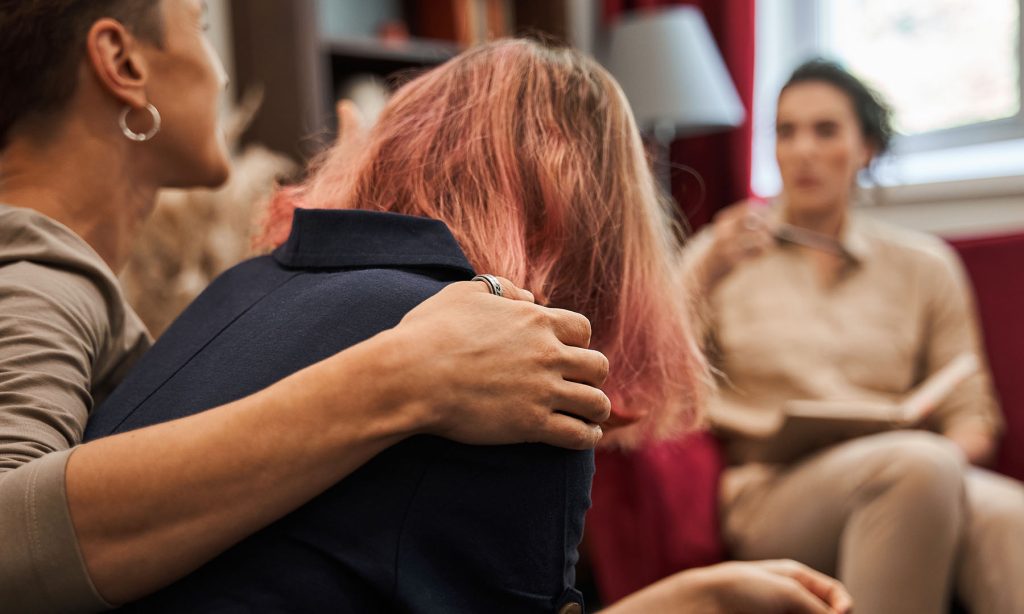 Discovery
My team and I started our discovery by participating in listening tours and in-person whiteboarding activities with top board members at UAF Legacy Health. We learned that heir deep roots, and steadfast commitment to the health of Utah's community make them uniquely positioned to fill the gap that exists between accessible care for LGBTQ+ Utahns.
From these initial discussions, I defined audience groups and created personas for each to support our development of the new site. I then developed a competitive analysis, which I shared with the content strategist. From this and the previous meetings, he developed a site structure and the wireframes.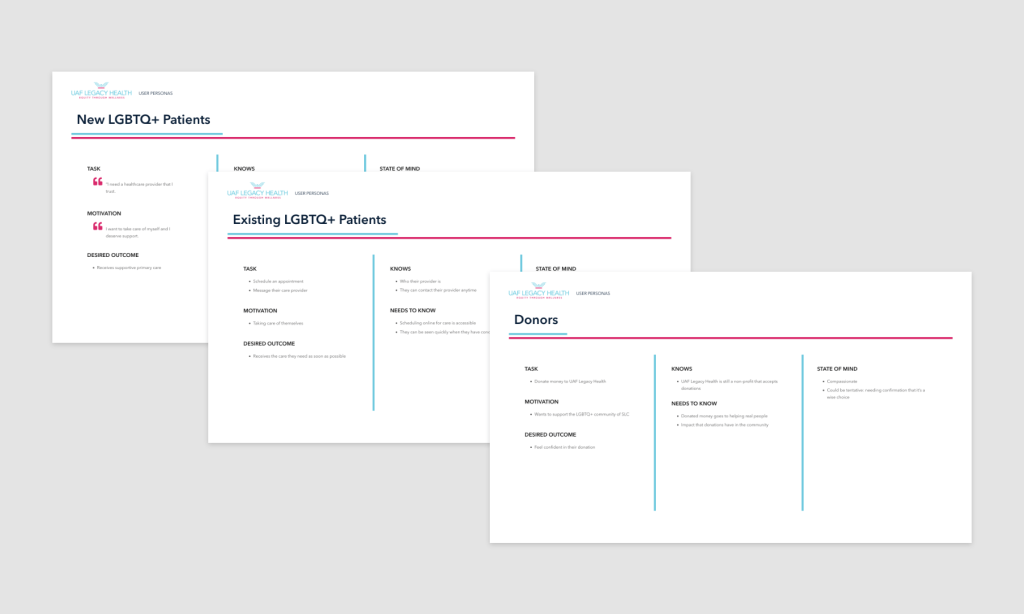 Design
Harking back to the personas I developed, I confirmed that the most critical point for our users would be to focus on their state of mind. By calming the anxiety or fears an LGBTQ+ patient may have, we would be able to convert users to schedule an appointment at the clinic.
I recognized this as the key due to research that shows 48% of older LGBTQ+ adults say their doctor isn't aware of this aspect because the individual fears their primary care will get worse if the doctor knew. Unfortunately, these concerns are warranted as 56% of LGB and 70% of transgender individuals have experienced discrimination in a healthcare setting.
So in order to change the user's state of mind, we chose a design direction that is very photo-driven. This would include:
photos of LGBTQ+ community members around iconic, local landmarks and
photography of the actual clinic, without that stark, clinical feeling that most healthcare groups go for.
These two photo types combined allow us to be authentic & approachable, as well as highlight the fact that UAF Legacy Health has been part of the Salt Lake community for nearly 40 years.
Design System
With the approval of the initial home page design, I took the next step to create a design system for the development team. This system not only provided the variables needed for development, but created flexible modules for use site-wide, informing future secondary and tertiary pages.