Case Study —
Association for Utah Community Health
Industry: healthcare, recruiting
My role: Lead Visual Designer
My deliverables: Design system, High-fidelity designs
Background: For over 30 years, the Association for Utah Community Health (AUCH) has provided training and technical assistance to 14 Health Centers across Utah. AUCH approached our team with a proposal for an updated recruiting platform to entice potential employees to live in Utah and work at one of their health centers.
Design
As we were creating a sister site to the main AUCH site, we opted to create a secondary, vibrant color scheme specifically to engage job seekers. Each color was selected to meet WCAG 2.0 AA color contrast requirements.
Additionally, I utilized my typography skills to create a type scale with clear hierarchy using the established brand font face and paired it with an inviting accent typeface. By using both fixed elements from the existing style guide and new elements, I created a design system that feels familiar, yet unique. The handwritten typeface, paintbrush stroke accents, and background textures create an approachable, friendly environment to attract employees.
The outdoor photography gives an additional nod to rural communites that are part of the AUCH network, highlighting the beautiful features of our state. Overall, this approach allows us to stand out from many clinical healthcare settings.
Components & Variables
As part of the design system, I created unique components with prototype hover and toggle states needed for the site. These included:
Testimonial cards
Clickable map
Career pathways prototype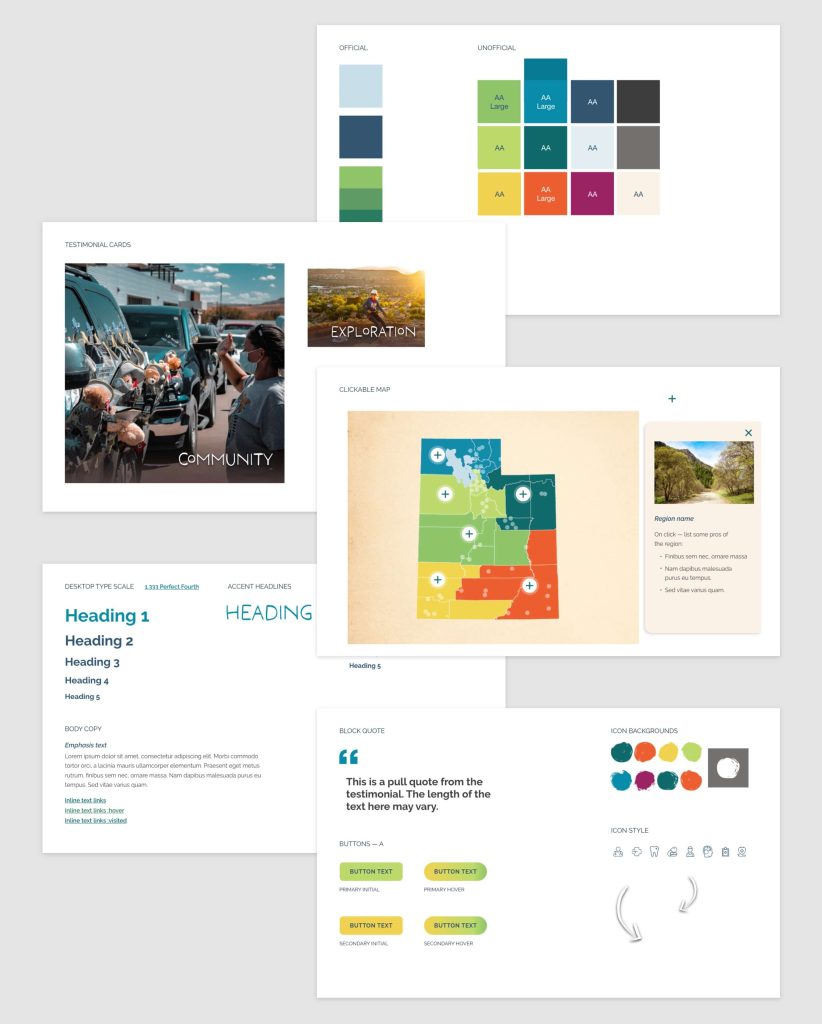 Page Mockups
It took multiple iterations, working with both client and development to refine our approach to the Home and Career Pathways pages. These were identified early on as key priorities for the site. Ultimately, we were able to create a product that all internal teams were excited about, knowing we would provide a useful tool for job seekers throughout the healthcare industry.